What are the benefits of Polygiene Stays Fresh Technology?
The silver salt (AgCl, silver chloride) in Polygiene inhibits and guards against the growth of odors from microbes such as bacteria, fungus and mildew.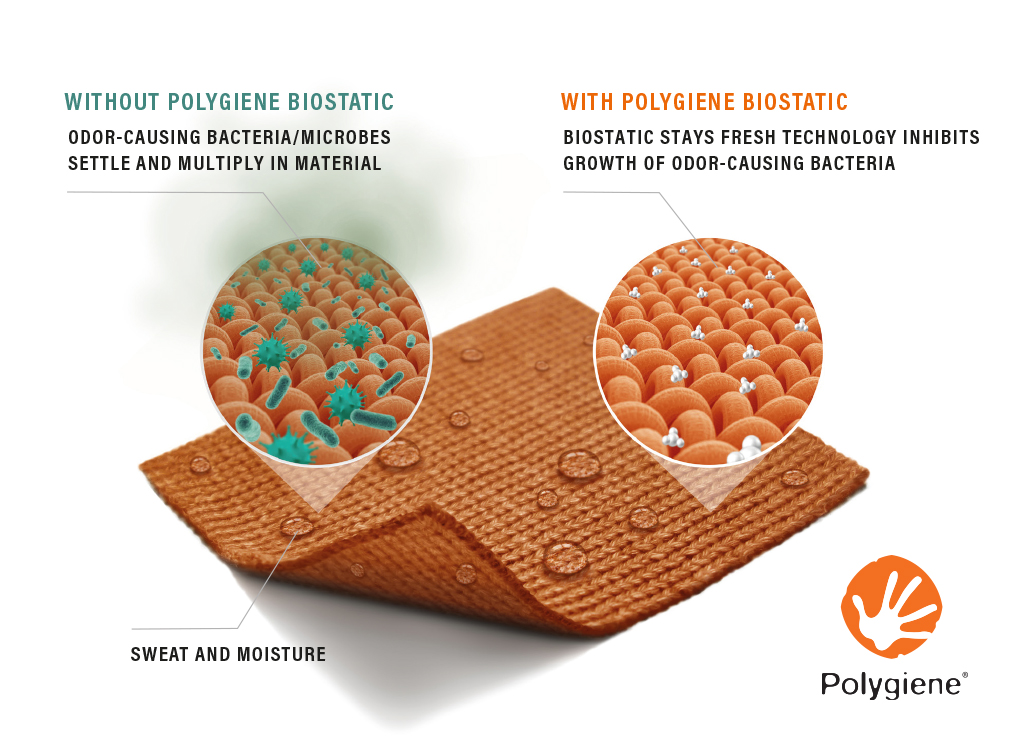 The positive effects for your LEVEL Gloves:
• Stays Fresh
Polygiene inhibits the growth of odor causing bacteria for that fresh-all-day feeling. Odor develops when odor causing bacteria settles into the fabric, mixes with sweat and multiplies.

• Stays Hygienic
Polygiene helps prevent odor and prolongs the lifetime of your gloves, since the products are treated to resist deterioration by mold fungus and odor causing bacteria.

• Have a lifetime effect
The treatment will last life- time of the product.

• Be more climate smart
Wear More. Wash Less®
- Polygiene treated products can be used several times before washing and can be washed at lower temperatures which means that you save energy, water, time and money.
- Longer lifetime of your gloves Fibers live longer without bacteria and excessive washing, and treated products are not discarded prematurely due to odor.
- Less luggage can be used when traveling.
- Recyclable - Polygiene-treated products can be recycled when worn-out.
- Polygiene is bluesign® approved – the textile industry's demanding environmental certification with a life-cycle approach.

What is Polygiene and how does it work?
Polygiene is based on silver salt (silver chloride). Silver chloride is naturally present in water and soil. Polygiene particles have a large amount of silver ions per surface area. Due to the structure of the particles, very small amounts of silver are required for effective treatment. Polygiene is co-applied with other treatments to the fabric during the finishing stage. This helps minimize the impact on the environment because additional energy or water is not required. The positive effects for your LEVEL Gloves:

Any effects when worn next to skin?
Background in the healthcare sector Polygiene has its heritage in the healthcare sector and has undergone extensive skin sensitivity testing. No interference with bacteria naturally occurring on the skin Polygiene is active only on the material's surface and does not interfere with bacteria naturally found on the skin, even when used for long periods of time. Tests also conclude that there is no identified risk from dermal and oral contact with silver treatments Polygiene is not nano silver.
Quali sono i benefici della tecnologia Polygiene Stays Fresh?
I sali di argento (AgCl, cloruro d'argento) contenuti in Polygiene inibiscono e prevengono la proliferazione dei microbi responsabili della formazione di odori, come batteri, funghi e muffe.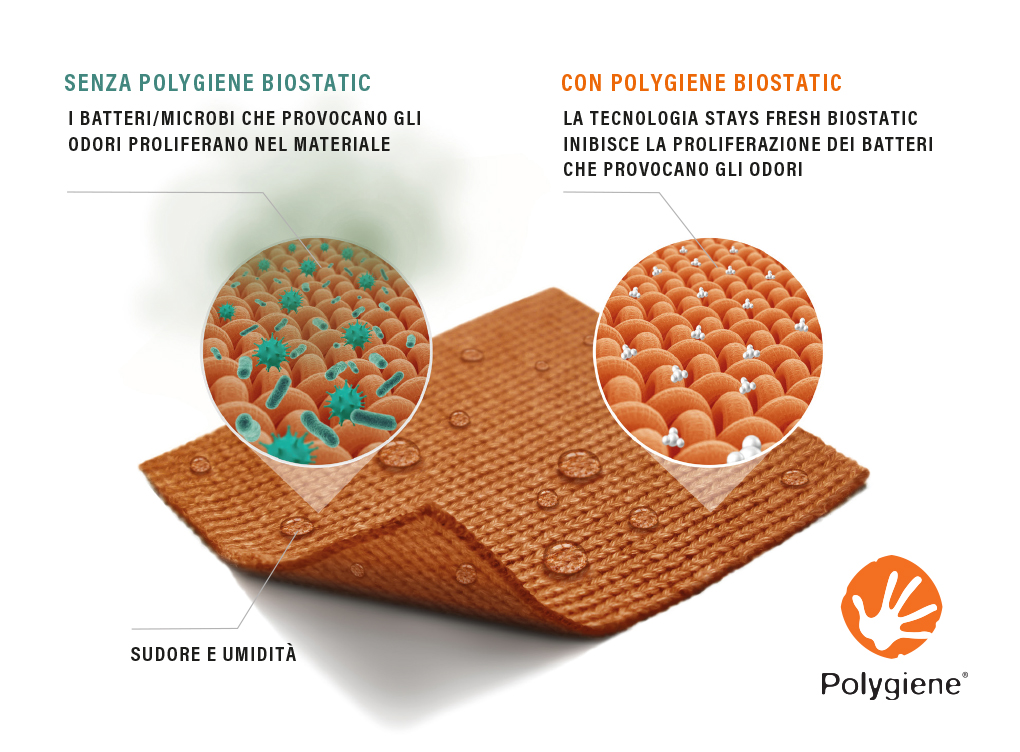 Gli effetti positivi per i tuoi guanti Level
• Freschezza
Polygiene inibisce la crescita dei batteri responsabili della formazione di odori e dona una sensazione di freschezza lunga tutto il giorno. Gli odori sono dovuti alla proliferazione dei batteri, che si insediano nei tessuti e si mescolano con il sudore.

• Igiene
Polygiene aiuta a prevenire gli odori e prolunga la vita dei tuoi guanti, poiché i prodotti sono trattati per resistere al deterioramento da muffe, funghi e batteri causanti dei cattivi odori.

• Effetto duraturo
Il trattamento è duraturo rimanendo efficace per l'intera vita utile del prodotto.

• Impatto ambientale ridotto
Wear More. Wash Less®
I prodotti Level trattati con Polygiene possono essere utilizzati più volte prima del lavaggio e consentono l'impiego di temperature più basse, con un conseguente risparmio di energia, acqua, tempo e denaro.
− Una vita più lunga per i tuoi guanti Level - senza batteri e lavaggi in eccesso, le fibre del tessuto durano più a lungo e i prodotti trattati non sono da eliminare prima del tempo per colpa dell'odore.
− Bagaglio ridotto quando si è in viaggio.
– Riciclabile
– Polygiene è approvato bluesign® e soddisfa i requisiti di questa severa certificazione ambientale per l'industria tessile, che tiene in considerazione l'intero ciclo di vita dei capi.

Cos'è Polygiene e come funziona?
Polygiene è a base di sali d'argento (cloruro d'argento). Il cloruro d'argento è naturalmente presente nell'acqua e nel terreno. Le particelle di Polygiene contengono una quantità elevata di ioni d'argento in relazione alla superficie. Grazie alla struttura delle particelle, per ottenere un trattamento efficace sono sufficienti quantità ridotte di argento. Nella fase finale di produzione, Polygiene è applicato sul tessuto in combinazione con altri trattamenti. Ciò permette di risparmiare energia e acqua, contribuendo a minimizzare l'impatto ambientale.

Quali sono gli effetti a contatto con la pelle?
Direttamente dal settore sanitario – Polygiene nasce nel settore sanitario ed è stato sottoposto ad approfonditi test di sensibilità cutanea. Non interferisce con i batteri presenti naturalmente sulla pelle. Polygiene è attivo esclusivamente sulla superficie del materiale e non interferisce con i batteri naturalmente presenti sulla pelle, anche se usato per periodi di tempo prolungati. I test non hanno evidenziato rischi derivanti dal contatto orale o cutaneo con trattamenti a base di argento.Polygiene non è nano-argento.
Welchen Nutzen hat Polygiene?
Das Silbersalz (AgCl, silver chloride) in Polygiene wirkt geruchs-hemmend, indem es das Entstehen von Mikroorganismen, z. B. Bakterien, Pilzen und Schimmel, verhindert.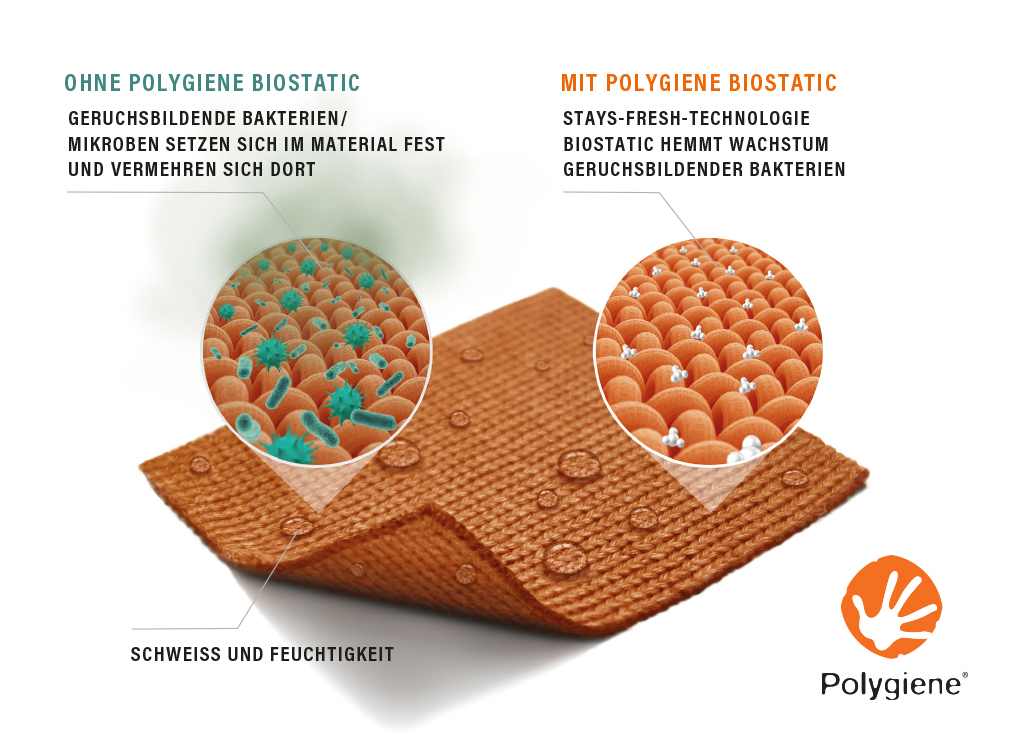 Die positiven Effekte für deine LEVEL Handschuhe:
• Dauerhafte Frische
Polygiene verhindert das Entstehen von geruchsbildenden Bakterien. Geruch entsteht, wenn sich Bakterien in Geweben festsetzen, mit Schweiß mischen und vermehren.

• Hygienisch
Polygiene wirkt gegen Geruch und verlängert die Lebensdauer von Level Handschuhen, da die Produkte durch die Behandlung gegen Schimmelpilze und geruchsbildende Bakterien geschützt werden.

• Langzeitwirkung
Die Behandlung hält garantiert über die gesamte Lebensdauer des Produkts.

• Klimaschutz
Wear More. Wash Less®
– Mit Polygiene behandelte Handschuhe können länger und mehrfach ohne Waschen genutzt werden und außerdem bei niedrigeren Temperaturen gewaschen werden. So sparen Sie Energie, Wasser, Zeit und Geld.
– Längere Lebensdauer für deine Level Handschuhe
– Fasern halten länger, wenn sie nicht durch Bakterien angegriffen und nicht ständig gewaschen werden. Behandelte Produkte werden wegen Geruchsbildung nicht vorzeitig entsorgt.
– Beim Reisen benötigen Sie weniger Gepäck.
– Recycelbar - Mit Polygiene behandelte Produkte können recycelt werden.
– Bluesign® approved - Polygiene erfüllt die Kriterien des anspruchsvollen Umweltstandards der Textilbranche, der den gesamten Produktlebenszyklus umfasst.

Was ist Polygiene und wie funktioniert es?
Polygiene basiert auf natürlichem Silbersalz (silver chloride). Silberchlorid kommt in natürlicher Form sowohl im Wasser als auch im Boden vor. • Polygiene-Partikel enthalten große Mengen an Silberionen pro Oberflächeneinheit. Aufgrund der Partikelstruktur werden für eine effektive Behandlung nur geringe Mengen Silber benötigt. Polygiene wird in der Veredlungsphase gleichzeitig mit anderen Behandlungen in das Gewebe eingearbeitet. Dadurch wird zur Verringerung der Umweltbeeinträchtigung beigetragen, da keine zusätzliche Energie oder Wasser erforderlich sind.

Hautfreundlich
Ursprung im Gesundheitswesen – Polygiene wurde ursprünglich im Gesundheitswesen eingesetzt und zahlreichen Hauttests unterzogen. Keine Beeinträchtigung der natürlichen Bakterienflora auf der Haut – Polygiene ist nur auf der Stoffoberfläche aktiv und beeinträchtigt die natürliche Bakterienflora der Haut nicht. Das gilt auch bei Hautkontakt über einen längeren Zeitraum.Testergebnissen zufolge ergeben sich außerdem keine erkennbaren Risiken bei Haut- oder Mundkontakt mit Silberbehandlungen. Polygiene ist eine nanofreie Lösung aus Silbersalz.
Quels sont les avantages de la technologie de contrôle des odeurs Polygiene ?
Le sel d'argent (chlorure d'argent) Polygiene empêche le développement de mauvaises odeurs dues aux microbes comme les bactéries, les champignons et les moisissures.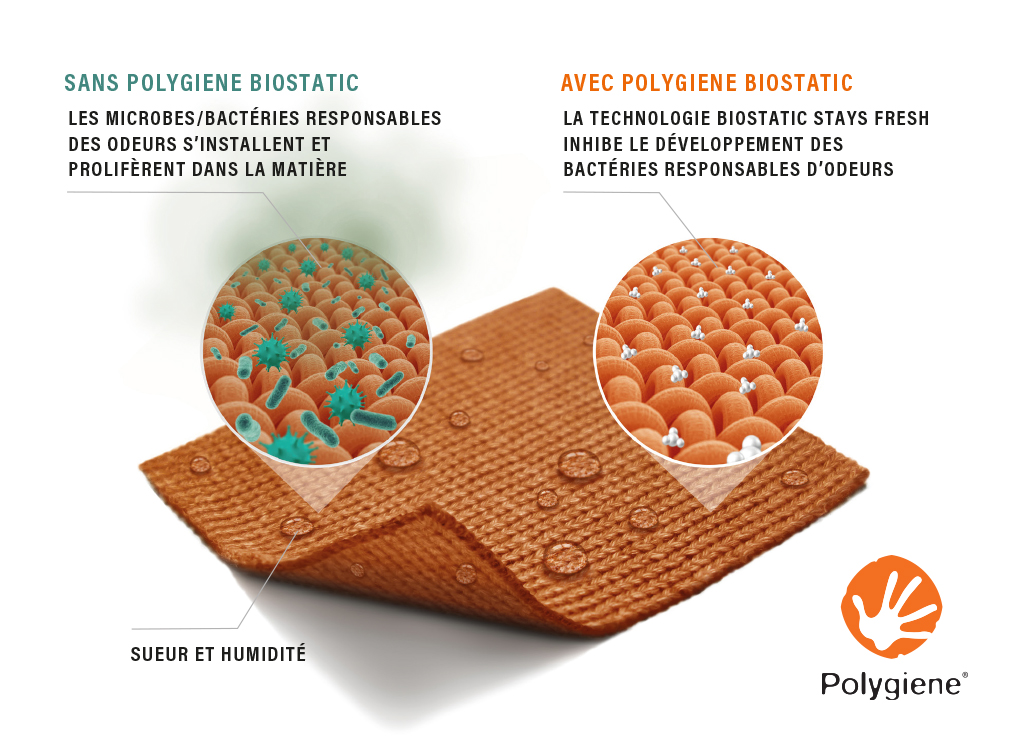 Vos gants LEVEL pourront :
• Rester frais
Polygiene inhibe la prolifération des bactéries à l'origine des mauvaises odeurs et procure une sensation de fraîcheur toute la journée. Les odeurs se développent lorsque les bactéries s'installent dans le tissu, se mélangent à la sueur et se multiplient.

• Rester hygiéniques
Polygiene prévient la formation d'odeurs et prolonge la durée de vie de vos gants Level, chaussures, équipements et combinaisons. Les produits traités résisteront à la détérioration provoquée par les moisissures, les champignons et les bactéries responsables des mauvaises odeurs.

• Bénéfier d'un effet permanent
Le traitement est permanent et efficace toute la vie du produit.

• Être adaptés au changement climatique
– Moins de lavages - gants traités avec Polygiene peuvent être utilisés plusieurs fois avant lavage et lavés à des températures plus basses. Ce qui induit une réduction de la consommation d'énergie et d'eau.
– Une durée de vie plus longue des produits - les fibres durent plus longtemps sans lavages excessifs et sans bactéries. Les produits traités ne sont pas jetés prématurément à cause de leur odeur.
– Moins de bagages pour voyager.
– Recyclables - les produits traités avec Polygiene peuvent être recyclés lorsqu'ils sont usés.
– Approuvés par bluesign® - Polygiene répond aux exigences de la certification environnementale stricte en vigueur dans l'industrie du textile qui prend en compte l'intégralité du cycle de vie d'un produit.

Qu'est-ce que Polygiene et comment agit-il?
Polygiene est à base de sel d'argent (chlorure d'argent) obtenu à partir d'argent recyclé. Le chlorure d'argent est naturellement présent dans l'eau et le sol. Les particules de Polygiene contiennent une grande quantité d'ions d'argent par unité de surface. En raison de la structure des particules, d'infimes quantités d'argent sont nécessaires pour un traitement efficace. Polygiene est appliqué sur le tissu durant la finition en même temps que d'autres traitements. Ceci permet de limiter l'impact sur l'environnement puisqu'il n'est pas nécessaire de consommer plus d'eau ou d'énergie.

Des effets quand on le porte à même la peau?
Polygiene tire ses origines du domaine médical et a effectué des tests approfondis au contact de la peau. Aucune interférence avec la flore naturelle de la peau – Polygiene est actif uniquement à la surface du tissu et n'interfère pas avec la flore bactérienne naturelle de la peau même quand il est utilisé sur de longues périodes. Des tests concluent également qu'il n'existe pas de risque identifié lié au contact oral et cutané avec des traitements à l'argent. Polygiene n'est pas du nano-argent.