SIZING CHART
The close collaboration between R&D and athletes has allowed LEVEL to develop a fit system for skiers and riders that can ensure the best fit for every kind of performance along with maximum comfort. For this reason all the gloves are divided into 3 different fits and are specifically designed for male and female hands.
How to Find Your Hand Measurements
Hand Length:
With your hand open, measure from the tip of your middle finger, down to the base of the palm drawing a straight line.
Hand Circumference:
With your hand open, measure around the circumference of your hand, at the base of your knuckles.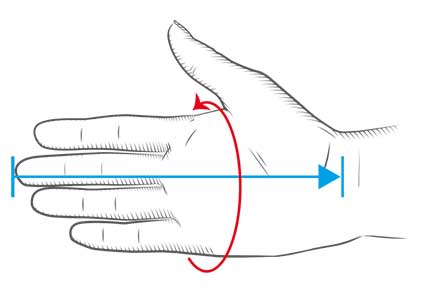 RED
cm
BLUE
cm
MEN'S
World
WOMEN'S
World
JR'S
World
11
13,4
-
-
4-Jr XXS
12
13,9
-
-
4,5-Jr XS
13
14,5
-
-
5-Jr S
14
15,1
-
-
5,5-Jr M
15
15,7
6-XXS
6-XXS
6-Jr L
16,5
16,3
6,5-XS
6,5-XS
6,5-Jr XL
18
17,1
7-S
7-S
7-Jr XXL
19
17,8
7,5-SM
7,5-SM
7,5-Jr 3XL
20
18,6
8-M
8-M
8-Jr 4XL
21,5
19,3
8,5-ML
8,5-ML
-
23
20
9-L
-
-
24
20,7
9,5-XL
-
-
25,5
21,5
10-XXL
-
-
26,5
22,2
10,5-3XL
-
-
28
23
11-4XL
-
-
| SIZES | AGE |
| --- | --- |
| 00 | 6-12 Months |
| 0 | 1-2 Years |
| I | 2-3 Years |
| II | 4-5 Years |
| III | 5-6 Years |
| IV | 7-8 Years |
| V | 9-10 Years |
| VI | 11-12 Years |